Pop Up Performance Series
Dive into a world of incredible musical talent at the Pop-up Performance Series, a partnership program between Roswell Arts Fund and Friends of Mimosa Hall and Gardens. 
On the 3rd Sunday of the month at 3:30 pm, music partner Roswell Music Club unveils a monthly series highlighting classical musical artists, showcasing the timeless beauty of classical compositions
And starting in January 2024 – On the 2nd Thursday of the month at 7:00 pm, music partner Steve's Live Music will curate a lineup of eclectic, mesmerizing, and innovative artists starting with series of Jazz Around the World.
Join us at the historic Mimosa Hall in Roswell, Georgia, (127 Bulloch Ave)  where captivating performances await, promising unforgettable experience for all music enthusiasts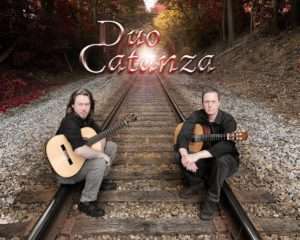 Sunday, December 17, 2023 at 3:30 pm
Duo Catanza
DUO CATANZA returns to Mimosa Hall & gardens for a magical afternoon of the exquisite classical guitar music!
Join us for an enchanting evening of harmonious melodies as the two virtuoso guitarists Scott Plato and Matthias Young take the stage. Duo Catanza will transport you to a world of timeless beauty through their exquisite interpretations of classical compositions.
What is Catanza? When creating the name for their guitar duo, Scott and Matthias decided to use something that would be reflective of their heritage. Scott's great grandfather immigrated to the United States from Catanzaro, Italy, which is known as the City of the Two Seas. In thinking of ways to use Catanzaro within the name of the duo, the decision was made to shorten the name to Catanza. In addition to creating a word unique to the duo, the name also highlights the word, tanz, which is German for dance. As Matthias has German heritage, amongst others, this seemed to be a perfect choice. Thus, Duo Catanza was created.
Indulge in the elegance of classical guitar music on December 17th.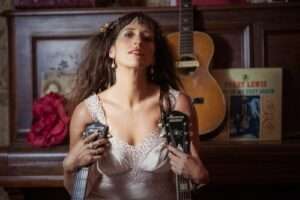 Thursday, January 11, 2024 at 7:00 pm
Jazz Around the World – The Influence of the Delta Blues
LAYLA MUSSELWHITE
Layla Musselwhite is a New Orleans-based singer songwriter and slide guitarist. Drawing on a rich musical legacy via her father, blues legend Charlie Musselwhite, Layla grew up on the road steeped in the music of the greatest blues artists of our time. Charlie's innovative playing led him to share stages and travel the world with artists like Muddy Waters, Howlin Wolf, Big Mama Thornton – & John Lee Hooker was Charlie's best man when her folks decided to make it legal. These artists were legends to many and family to Layla. As a teenager, she started getting lessons in Mississippi hill country guitar from Charlie, and her solo shows reveal her understanding and deep respect for early blues rhythms and melody, with a contemporary soulful voice that sends chills down the spine.
"You've got to hear her play slide." Brian Stoltz from the Meters said when they shared a stage at Chickie Wah Wah that she was "The real thing – lots of guys try to play like that and they can't. She's got it. Amazing.".
Thursday, February 8, 2024 at 7:00 pm
Jazz Around the World – Swing and Gypsy Jazz
THE BONAVENTURE QUARTET
Founded in 2000 by Charles Williams, The Bonaventure Quartet originally consisted of four members. The vision was to be an acoustic jazz band that created music in the style of the Django Reinhardt & The Hot Club of France. With the addition of singer Amy Pike, the band began incorporating American styles of jazz along with original music. The band now consists of up to eight members, but can often be found performing as a quintet, quartet, or trio depending on the occasion.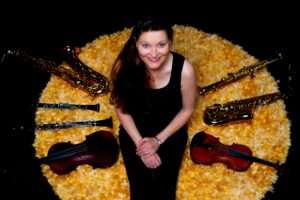 Thursday, March 14, 2024 at 7:00 pm
Jazz Around the World – Dixieland to Klezmer
MARLA FEENEY BAND
Marla Feeney is a multi-instrumentalist based in Atlanta. Her instruments include violin, clarinet, saxophone, flute, and vocals, among others. She also enjoys composing, arranging, and recording. She loves jazz and classical performance, as well as country, blues, bluegrass, folk, and special ethnic music, and playing for her church and several other local churches and synagogues. Happy to be in Atlanta among so many fine musicians, Marla has some new plans in the works.
Marla's last project was an uplifting journey of Music from Around the World, from the roots of New Orleans jazz, through the Mississippi Delta blues and ragtime, to the Country Swing of the Midwest , and to the Bluegrass of the Appalachian mountains- and then across the pond to enjoy some Celtic music from Ireland, to Klezmer and Gypsy Jazz of Europe.

Highlights from Past Performances
In October 2021, we welcomed Jake Xerxes Fussell and band to our first concert under the stars at the Chattahoochee Nature Center.  This Pop Up also marked our first performance that was funded in part by a grant from South Arts in partnership with the National Endowment for the Arts.
The inaugural season of the RAF Pop Up Performance Series began with a standing room-only concert at the intimate Roswell Historic Cottage. 
Due to COVID-19, our plans changed but the show must go on and we quickly reimagined our events and transformed parking lots into safe, physically distant yet social spaces for artists and audiences.
1400 concert-goers joined us for in-person concerts coming from Roswell, Johns Creek, Alpharetta, Marietta, Smyrna, Decatur, and Atlanta.
Another 2100 households tuned in for our first-ever live stream concert early in 2020.
Headliners in 2020 included:  Ed Roland (of Collective Soul),  John Driskell Hopkins (of Zac Brown), Randall Bramblett Band, Acoustic Syndicate, Ruby Velle and Enrique Che (of Making Movies)
What a fantastic show. Ed Roland is a real showman. Loved the space, the vibes and the music. Congratulations!
A great artist selection by the Arts Fund! Keep them coming!
Our first time and we all had more fun than we expected! Fantastic show and we will most def participate with any upcoming shows!
I got my spot and am SO fired up to listen to them and feel live music once again. Thanks so much to all for bringing this to life!
October 16, 2021: Jake Xerxes Fussell and Friends
Feb 27, 2020: Ed Roland with Grit and Grace and Francisco Vidal
August 15, 2020: The John Driskell Hopkins Band with Mike Rizzi and Friends